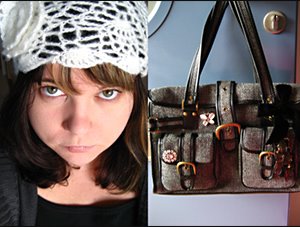 Man oh man shopping can be hard work. 😀 I got some vouchers for my birthday (from Nikki & Ian and Chris & Amy) and today I finally had a chance to go out and spend them! We went to Oxford Street with Susie and walked our little legs off in search for the perfect autumn/winter bag. Way too many people in London on a Saturday. Way too many people who decide to stop right in front of you or cut you off or shout in your ear or… Uhh. Well anyways. I did manage to buy a lovely bag and also a hat (well I figure winter will probably come, eventually…). So, thanks for my pressies. 😛
Stu just phoned, Susie's making me dinner and Friends are on TV. I feel a bit sleepy and my feet ache.
We're gonna go see Volver tomorrow. Yup.