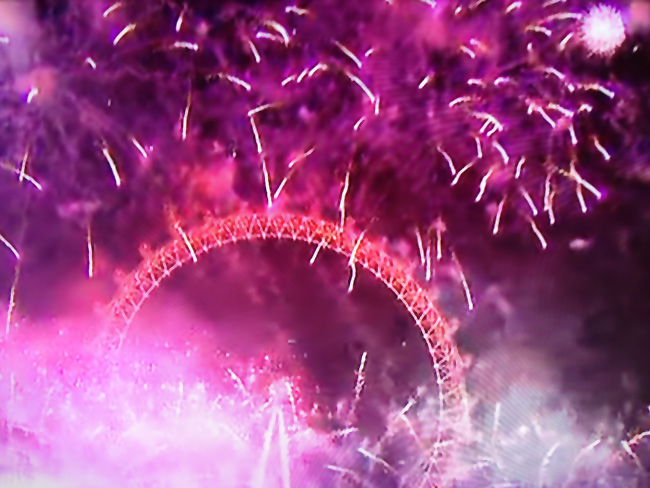 1. What did you do in 2013 that you'd never done before?
Got pets!
2. Did you keep your new years' resolutions, and will you make more for next year?
For 2013 my resolutions were to 'be kinder to myself, take more time to look inside, narrow down what's really important, travel a lot – for fun.'.
In 2013… I certainly did a lot more not-entirely-work-related travel, which was nice. As far as the rest… meh.
For 2014 my resolutions will be… figure out the big picture, get a grip?
3. Did anyone close to you give birth?
Yes. So many people. Most notably Johanna and Nikki. I'm an auntie!
4. Did anyone close to you die?
Not close to me as such. There was one shocking death though.
5. What countries did you visit?
Finland, France (twice), Italy, Colorado, California (twice).
My travel facts for 2013 from Tripit:
Trips            16
Days            88
Distance    65,335 km
Cities          39
Countries 5
6. What would you like to have in 2014 that you lacked in 2013?
Pure joy.
7. What date from 2013 will remain etched upon your memory, and why?
3rd of April, Jerome/Message to Bears performing for our tiny group was one of the most amazing experiences ever. 25th of July, seeing Antony & the Johnsons at the Royal Opera House.

8. What was your biggest achievement of the year?
Starting up a new agency, Her Lovely Heart. Being appointed Director of Beloved Collective.
9. What was your biggest failure?
Losing the plot on personal life/myself.
10. Did you suffer illness or injury?
I did suffer, that's for sure.
11. What was the best thing you bought?
Astrid & Sofia.
12. Whose behaviour merited celebration?
Susanna, as ever. My amazing team at Beloved Collective. Kitties.

13. Whose behaviour made you appalled and depressed?
There were a couple of moments.
14. Where did most of your money go?
Travel. Health. Cats.
15. What did you get really, really, really excited about?
Getting to work developing Beloved Collective, which really is an opportunity to make the world a tiny bit better place. Shooting a wedding at the same venue where Karen's wedding at the finale of the first season of Californication took place in.
16. What songs will always remind you of 2012?
Noah Gundersen – Family.
17. Compared to this time last year, are you:
i. happier or sadder? Number.
ii. thinner or fatter? Don't know, fatter I guess.
iii. richer or poorer? Poorer.
18. What do you wish you'd done more of?
Laughing.

19. What do you wish you'd done less of?
Feeling angsty.

20. How did you spend Christmas?
Christmas Eve & Day at home with Stu and Susanna, Boxing Day with Stu's family, meeting new addition, Max.
21. How did you spend New Years?
At home, falling asleep in front of the telly with kittens.
22. Did you fall in love in 2013?
No.
23. How many one night stands?
0.

24. What were your favourite TV programmes?
Breaking Bad. Game of Thrones.
25. Do you hate anyone now that you didn't hate this time last year?
I don't have time for hate.
26. What was the best book you read?
Kate Atkinson – Life After Life.
27. What was your greatest musical discovery?
Poliça.
28. What did you want and get?
Kittens.
29. What did you want and not get?
Kitchen & bathroom.
30. What was your favourite film of this year?
Don't really know… Gravity?
31. What did you do on your birthday, and how old were you?
Saw the amazing Antony & the Johnsons at the Royal Opera House with Stu and Sooz. Mind-puzzlingly turned 37.
32. What one thing would have made your year immeasurably more satisfying?
A clearer head.
33. How would you describe your personal fashion concept in 2013?
Kinda lost it again. Just lucky to actually be dressed when heading out the door.
34. What kept you sane?
Not sure anything did. Kittens tried hard.
35. Which celebrity/public figure did you fancy the most?
Colin.
36. What political issue stirred you the most?
Boston marathon bombs, Turkish protests, Snowden, Egypt, Mandela's death.
37. Who did you miss?
Myself.

38. Who was the best new person you met?
Hmm hard to try to think who I have met this year and not before. Perhaps Karin.
39. Tell us a valuable life lesson you learned in 2013.
There is a limit.
40. Quote a song lyric that sums up your year.
"Someway, baby, it's part of me, apart from me"
You're laying waste to Halloween
You fucked it friend, it's on it's head, it struck the street
You're in Milwaukee, off your feet
And at once I knew I was not magnificent
Strayed above the highway aisle
(Jagged vacance, thick with ice)
And I could see for miles, miles, miles
3rd and Lake it burnt away, the hallway
Was where we learned to celebrate
Automatic bought the years you'd talk for me
That night you played me 'Lip Parade'
Not the needle, nor the thread, the lost decree
Saying nothing, that's enough for me
And at once I knew I was not magnificent
Hulled far from the highway aisle (Jagged vacance, thick with ice)
And I could see for miles, miles, miles
Christmas night, it clutched the light, the hallow bright
Above my brother, I and tangled spines
We smoked the screen to make it what it was to be
Now to know it in my memory
And at once I knew I was not magnificent
High above the highway aisle (Jagged vacance, thick with ice)
But I could see for miles, miles, miles
Bon Iver – Holocene