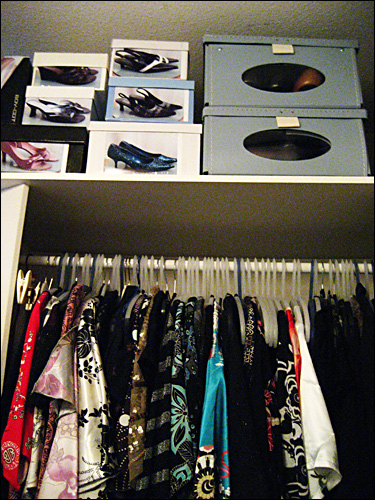 I've got two men snoring on the sofa. I took a picture, but I think it would be a bit cruel to put it up on the internet. 😛
In the meanwhile, I'm entertaining myself with eBay (again). So I'm not complaining really. 😀 I'm waiting for one auction to end and also trying to will my own items to sell.
I just realised I hadn't yet shared the latest development on the dressing room front! While I'm waiting until we move back to England until I get some of these (ingenious!), I decided to do the next best thing for now. So, I printed out pictures of the shoes I have in boxes and stuck them on them, just to make life a little bit easier. And more organised. And more pretty. And more like sex & the city. No but seriously, I think I'm going to move into my new closet. It's so lovely.
I had like two drinks tonight and I got so very tired at around 10pm, but now what with it being 3.30am I'm wide awake of course. Figures. I might go and try squeeze myself on the sofa to watch the episode of ER I recorded the other day. Not completely sure if I'll be able to hear anything over the synchronised snoring however.