The holiday so far has been rather uneventful, which isn't such a bad quality for a holiday I suppose. I have managed to sort my taxes out and Stu has managed to have a nervous breakdown with the car business, which is still not sorted. Looks like it'll happen next week. Which means we do have a car for now then, and can go to Rayleigh for Easter Sunday.
The bits for my new computer were supposed to come today but that got delayed as they couldn't find the motherboard in the warehouse. After switching the motherboard to a different model the computer should be arriving tomorrow. Hopefully that'll happen early in the day so the whole day won't be wasted.
Other than that we have also managed to laze around on the sofa a little bit as well, after all that is something we are both quite talented at.

To kill the time, while waiting for the computer that didn't come, I dyed my hair today. The very expensive colour (courtesy of Toni&Guy;) had faded quite horribly in just a month and a bit, especially the orangey bits looked awful, so I had to do something about it. And since finding a decent hairdresser seems like a challenge in itself I decided to go back to 'plain' brown to at least forgo the task of finding a colourist as well. I originally wanted it a bit darker than it turned out, but all the blond bits meant that there are lighter/redder areas in there which takes away from the darkness of the brown. The colour that I used was L'oreal Feria Colour 3D in Espresso. It's been ages since I've coloured my hair myself, I forgot what a messy job it is! :O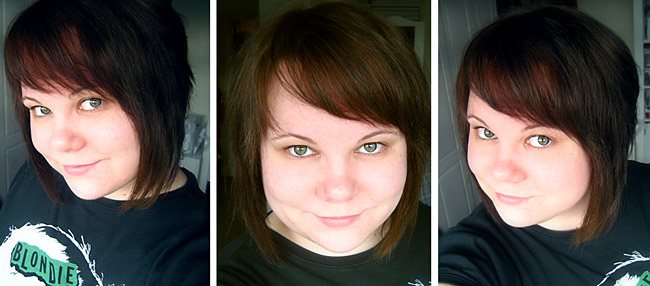 Now I'll just have to wait for the hair to grow a bit so I can have it 'connected' back at the back. It's a bit of a case of business in front, party at the back for the moment.
Hyvää Syntymäpäivää Äitille! 😀