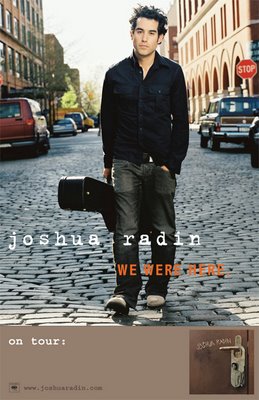 Oh man! I don't know how I didn't know this earlier, but I just found out that this year Joshua Radin is doing a whole European tour with Tori Amos! Like, Oh. My. God. I tried to look for his gigs at some point but it looked like he never tours Europe. And now I find out that I'll see him on the same gig as Tori in July! I'm just sitting here grinning from ear to ear. His music is just magic and I would never have dreamed of getting to see him live 'by accident' like this. I'm over the moon. I can't wait now, please can it be July already! 😀
All in all, this year is shaping up to be rather a good gig year for me. There's something very addictive about seeing artist's live, it certainly gives a whole new dimension to their music.
This weekend has been a bit of a non-starter so far. Luckily tomorrow I get to enjoy my bank holiday so hopefully I'll be feeling at least a little bit better so I could at least get this place tidied up. I was supposed to go to Johanna's tomorrow but I rescheduled that to Wednesday because I'm worried I'll still be feeling too rough for such adventurous traveling. Jenni is also supposed to come for a shoot of some sort (which I haven't planned at all yet) tomorrow night, and I can't really cancel on her (again)… Fingers crossed I'll be feeling at least a little less shitty come tomorrow.
It's sad to realise how money nor fame doesn't really guarantee a happy life or a safe childhood. People are people in all their broken and ugly glory, even in the case of celebs like Alec Baldwin (and Kim if she really did leak this herself) and David Hasselhoff.