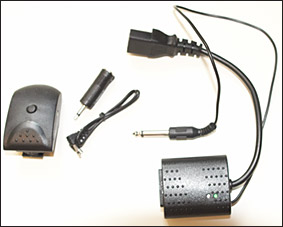 I bought this radio remote flash trigger from ebay at some point and it came today. Yay for no more cables! It came from Hong Kong and the most amusing thing about it is the 'manual' that came with it. Here's a brief description of the device for you:
The lamp supersonic wave of shadow room remote controls the trigger, and is to be used the camera sychronously to touch of the shadow room lamp control package, and forms by two parts on signal transmitter and the receipt trigger, and uses the nothing thread to remote control method work.
It all makes sense though! 😀 So far I've tested that it works (i.e. fires the flash) but I haven't really tested how well yet. Will be interesting to see if there's a delay or some other problems as this was a really cheap buy, nothing like a Pocket Wizard or such. I'm thinking this bit of the manual touches on the subject of reaction time:
Receiving the trigger use exchange power supply, by FM's control deciphering work, the reaction velocity is sensitive to the work loss of supers strong trunk ability and very low, can the synchronization of the satisfied camera of various type shutters gleams usefulness.
I do sincerely hope my camera will be 'satisfied'. 😐 I suppose I'll just have to keep in mind the warnings from the 'Pay attention' section:
3. avoid falling to fall colliding the hard thing.