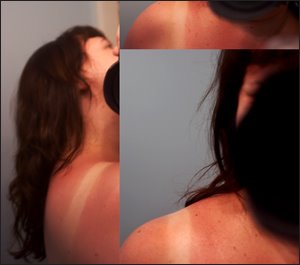 Did you know it's actually incredibly hard to try to take pictures of your own sunbu… tan. 😛 And it doesn't even look so… glorious anymore. It was so very bad (and painful) on Sunday night. But now, just as I was thinking that I was turning more brown than bright red, the skin has started peeling off. 😮 And I've been adding after sun lotion practially every hour! Pfft. Just goes to show I wasn't built for heat. I suppose it was good to do a practice run before going to Italy though…
It's nice to be back in Finland. It was about 26C here today, which felt so fresh and lovely. Like I can finally breathe again. And sleep! Talking of which, I should prolly get some soon since I have to take the car to be serviced tomorrow morning at 7:30. 😐 What the hell kind of time is that. I think I must have had a brain fart when booking it. Umm.
I don't really know what to tell you at the moment. My mind is a bit all over the place and I think I'll have to take this weekend to get back into the swing of things (again). Then it's only one week and we'll be on holiday for two weeks. 😀 Yay. Work has been a bit full-on lately so it'll be so nice to get a proper break from it.
But yah, I'll get back to you when I have something to say (do I ever really?).