Let's do the good news first. The bathroom got finished this week, which is wonderful. And it turned out very nice indeed, considering that we didn't have *that* much done to it. Little things do make a big difference. As do the bigger things, like the sauna. It is just soo gorgeous. And somehow more spacious. We've already had a sauna twice this week (and the bathroom only got finished on Wednesday)… 😀 For those among you who would want to see some boring before, during and after shots, I've put up a little gallery here. Although I have to point out that the change feels a lot more dramatic than it looks in pictures (what with everything still being more or less in the same places).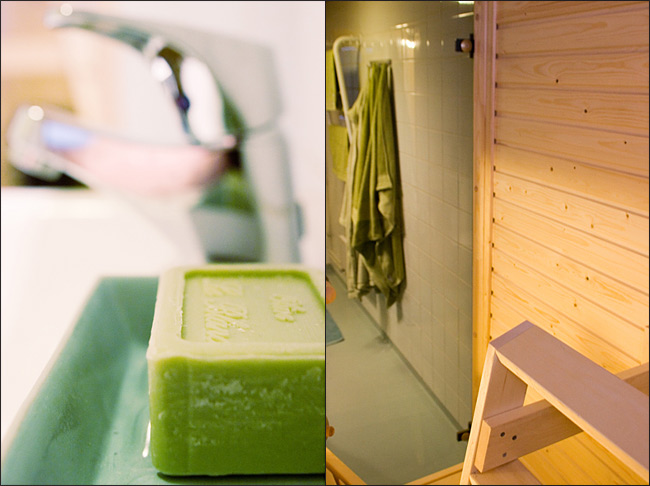 The joy of the bathroom was dampened a little bit by an unexpectedly shitty end of the week on other fronts. I had a dentist appointment on Wednesday and I wasn't really prepared for what happened at all. When they give you painkillers and antibiotics before you've even sat down, you can be sure that what's coming isn't all that pleasant. 😐 And the surgical sheet that was taped over my face didn't help in shaking the feeling of dread much either…. Uh huh. Wednesday night was awful awful awful, I haven't been able to open my mouth much for two days. Couldn't really sleep much from the pain last night, but today it's been a bit more bearable. Even if I still look rather like Quasimodo. At least the saga of my stupid tooth (recap: infected root, root canal, lotsa money wasted, turned out to be a birth defect, pulled the tooth out, now in the first stages of putting in an implant) is getting a bit nearer to the end. By spring time I should have a full row of teeth again and can go back to enjoying the fact that I have no fillings (nor money left). 😛
If that wasn't enough, on Thursday morning I had to drag myself (= be kindly chauffeured by S) to the hospital for the dreaded ACTH Stimulation Test, which entailed getting poked by needles every half an hour for a couple of hours. Lovely. Was pretty much knocked out all day yesterday after that one.
But yeah, let's look on the positive side, at least our bathroom is gorgeous and noise- and workmen-free. <3