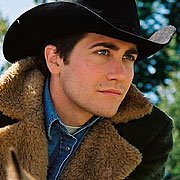 So, I finally went to see Brokeback Mountain with Jenni yesterday. And I must say it was truly a beautiful and moving experience, which will probably stay with me for a long time to come. In fact, I feel like the film is still growing on me and that I will be appreciating it more and more when time passes… and when I inevitably will watch it again. I think it's a real shame the film has acquired the reputation of 'the gay cowboy film' (even though I know it's impossible not to call it that, it just kinda flows. 😛 ), as it might limit the amount of people who will go and see it – and possibly prevent exactly the types of people from seeing it who really should see it. Because first and foremost, it's a lovestory. A lovestory so sincere I can't even remember when I last felt so much for the characters in a film. The acting is so brilliant that gender becomes wholly inconsequential and you are left with just the raw essence of what all of us are about. You feel for these two people and understand their pain so completely that it feels overwhelmingly wrong for them to be apart because of what the society finds (or did back in the time where the story is based) 'acceptable'.
I've never really liked or rated Heath Ledger before. But I must admit that his Ennis Del Mar will probably go down in the history books as one of the most remarkable characters ever. (A very similar sort of revelation as Jim Carrey was in The Eternal Sunshine of the Spotless Mind, but so much more courageous). He never puts a foot wrong. He is so subtle and raw and true… he makes us feel and live the whole journey with him. Jake Gyllenhaal is as good as I expected him to be, I've been sure for a long time that he is meant for great things. So fearless and uncompromising is his dedication to each role I've seen him in. In Brokeback he provides the perfect amount of passion and fragility, making it really easy for us to believe how Ennis would fall for him. In fact, the whole supporting cast is brilliant, not least Michelle Williams, who is vulnerability incarnate.
Only minus point for me was the slightly unbelievable looking aging job done on the actors, after all the story spans over 20 years. But it wasn't done badly-badly, and I suppose it's always a tricky thing to get spot on because everyone will still know that it's makeup etc. and will be looking even more closely. Still, it's nothing that seriously hampered my ability to enjoy the film. For the movie on a whole is beautiful. Slow, glorious, painful, bittersweet – like life itself.
On a completely separate note, there is also the fact that Jake Gyllenhaal has the most incredible eyes. Ever. In the history of eyes. *drool* Like yeah, I'd do him. What ever sex or species he was. Umm.