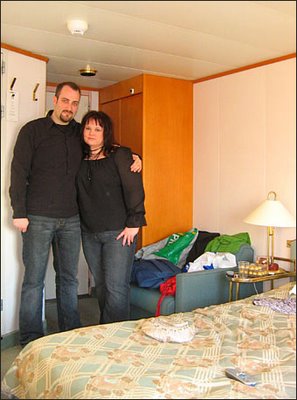 Soo, the cruise to Stockholm was much fun (see, there we are in our cabin). We even managed to miss the riots (which also involved the fellas with funny hair in one of my moblog pics – saw them on telly later 😛 ) where shop windows were being smashed etc. in oppose to globalisation. I think. Anyhoo.
The weather right now is glorious – all sunshine – and it's Friday. So that's all good. For someone who travels as much as I do, I can't quite understand why it takes me such a long time to regain a sense of control after returning from a trip. It happens every time I go away for work, but it looks like only a couple of days of holiday have the same effect. Last week I felt so on top of things, I had re-arranged the furniture, had a clean home and a tidy kitchen, was staying on top of the laundry, not to mention diet, bills etc. routines. Now, after being back for four days, the flat is in complete chaos, I'm yet to unpack completely, I haven't even managed to do a proper foodshop and I just feel like I can't get a grasp of anything. I'm sure the weekend will fix things, but still, it's bloody annoying. I really ought to be able to just return and slip into normal routines just like that by now.
After a gruelling day at the tax office on Wednesday (why did our tax office have to move into the arse end of the universe) it looks like I might even get a bit of a rebate at the end of the year. That's absolutely brilliant and a complete 180 to the feeling I left the tax office last year with. Fingers crossed there is no huge mistake in the calculations. In any case, it's nice to just breathe a sigh of release that that's done for this year. God I hate tax returns.
I feel like I'm going through an extremely busy period at the moment. And busy in a mundane, not very exciting way. I can't seem to muster much time or energy to my normal past time activities, like shooting. Mind you, I do have a huge backlog of older shoots to process and a gigantic amount of pictures in need of sorting out for printing for portfolio or to models etc. 😐 Should probably get to all that at some point. Uhh, I hate feeling useless.
Bring on the weekend (and a little cleaning lady if at all possible).