Hey it's been a while. 😀 What happened was that I had last week off work and hence I didn't spend a whole lot of time on the computer. What I did do was finally getting most of the christmas present shopping done, which is nice after the not so good start in London the week before. On monday we hit Ikea with Eve, tuesday it was last minute shopping with mum before she headed of to Las Palmas for two weeks, and on thursday we did our annual christmas shopping in Helsinki with Jenni. I hate to do my shopping too close to christmas when you have this awful pressure about it hanging over you and every shop is packed with people panic buying, so I feel very pleased with having most of the pressies sorted already. I do feel rather 'shopped out' at the moment though. Miracles do happen…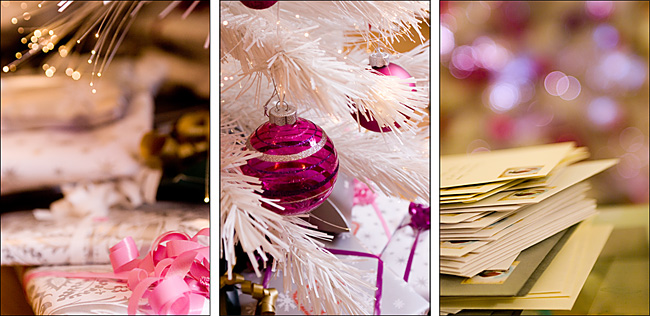 Since yesterday was the first day of December (which is actually called 'christmas month' in finnish) I made a start with the decorating. We're not gonna get a real tree this year, especially since Stu will be in England for most of the holidays, so I just made my trusty old white tree look all pretty in pink. It's amazing how a few twinkly lights here and there can alter the mood of a space. It's all so warm and cozy looking now.
And today we wrote most, if not all, of the christmas cards. Now that's efficient if you ask me! It helped that Stu was very good this year and wrote all the addresses. So yeah, I feel I'm all set for relaxing into enjoying the nice sides of the festive season now. Despite all the 'tasks' that need to get done, this time of year is definitely my favourite thing about winter.
I don't think there's anything else to report really. Just all things christmassy going on here…