I finally finished laying out Nikki's wedding book today. It ended up being 84 pages, and looks pretty good to me. Am very pleased with it. I think the fact that I'm a designer in my day job helps me automatically think about the layout when I'm taking the shots, which makes laying out quite easy (if still laborious). I'm thinking maybe photo shoots delivered as a book could be my little 'niche', if I was to start taking photography a bit more seriously… Hmm.
As a side note, one thing I've been meaning to mention is this wonderful website called The Selby, which showcases real homes of interesting people. It's really inspirational, not to mention addictive, snooping around in people's homes!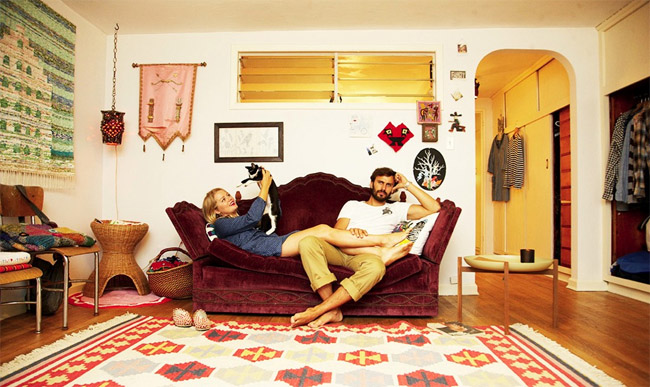 Fanny Bostrom, artist and Bill Gentle, photographer, at home – Brooklyn – August 18 2008
But yeah, I've been quite busy today so far. I've done the dishes, hoovered, put summer shoes and clothes into storage… Oh yeah and sent Stu to Rayleigh to do some washing as our washing machine is broken. 🙁 Sooz is on her way over and I think we're gonna head out to try to make the most of the super nice weather (strange to pack summer stuff away when it's bright sunshine and +20C, but I know it won't last!).
Today's productivity made up for yesterday when I didn't get anything done, thanks to Marjut. She pointed me towards Fabchannel, which is where you can watch full concerts from many (of my favourite) artists. I even had to send Stu out to get a cable so I could hook my laptop to the telly and watch them full screen. 😀 What a great resource!