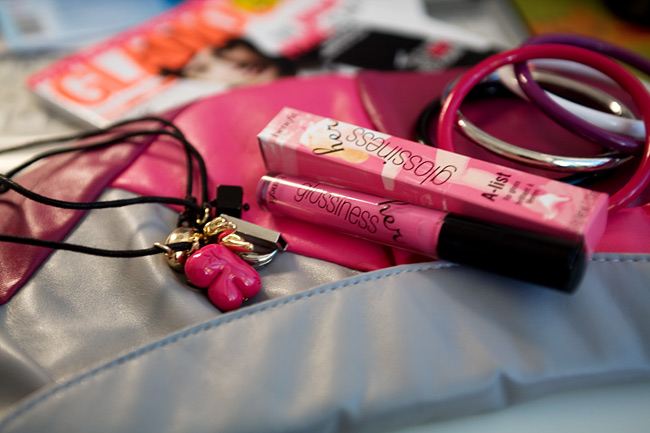 Today was pretty yawn-inducing and loooong. The weather outside is lovely though, it's nice to at least be able to see the sun, even if it's through an office window.
When I got home the new Glamour had finally arrived and with it came a surprise pressie in the form of Benefit Her Glossiness lip gloss. Yummy colour as well. Since it went so well with my yesterday's H&M; purchases – a clutch bag and some colourful bangles and a weird necklace – I let them pose together. I think I'm slowly turning pink all over, must keep on eye on that…
Now it's already 8pm and I suppose I'd better start making some dinner. I don't know where all the hours in the day go. Oh, yes I do. Bummer.
Oh oh, one more thing. I got tickets for S, Riina and me to go to a picnic concert titled 'The music of Dirty Dancing' at Audley End House in July. 😀 I have no idea what it'll be like (lame most likely) but I couldn't miss the opportunity of spending some quality time with Riina, since the concert is practically at her doorstep. And in case you're wondering how I talked S into going… well the following day is our wedding anniversary, so he couldn't very well deny me some Dirty Dancing romancing could he! 😛