Finland finally got added to the Skype world subscription, so I signed up instantly. Now I can use skype to make calls from my mobile (yay) and I can also have three numbers (in different countries) so people can phone me as they would a normal landline. I set up a Finnish number to start with, can't really think of in what other countries there are desperate people wanting to get in touch with me. 😛 But yeah, if you want to get my 'Finnish' number, which will cost you no more than a normal landline call in Finland would, and to which I can answer via skype (when I'm home), let me know.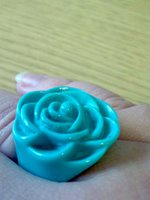 Thank heavens it's Friday. The worst of the gloom has definitely lifted, on all fronts. Just have to get through today.
I didn't even turn my computer on last night, so I will have to finish sorting the photos tonight. The blog is looking awfully text heavy without any pictures! Oh I know, here's a camera phone snap of the ring I'm wearing today. I got a gift voucher to New Look for my birthday and this ring was one of the things I bought (for £1!). It just cheers me up looking at it. Little pretty things make me happy.
I should probably get on with looking like I'm busy now.