Well, I did indeed finally go to the hairdresser today and the results look something like this.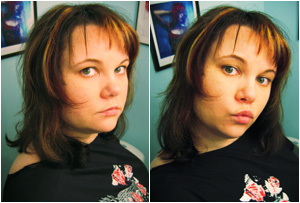 Lots of stripy things and stuff. But I can't wait until I can actually style it myself. Have to wait for two days before washing after it's been dyed. Humph. Hairdressers always style hair in a 'flat' way (even if it just looks plain messy in the pictures. Hmm.). I want BIG hair. 😀
In other news, my mobile phone broke over the weekend. Well as in it still works other than I can't hear anything the other person says. Which in some cases is an added bonus, but after a few days it gets a bit boring. Today I finally got tired of answering the phone and going 'I can't actually hear you so I can't help you', and after a very unsuccessful consultation with the insurance company (129e excess!!) I went and bought a new phone myself. It's a bit weird. And someone will be pleased to see it's a clam type thing. Although I don't really like the flippety flip action. Hopefully I'll get used to it. Anyways, it was the only one (Nokia that is :P) which had both a camera and a radio in my price range.
(And yes, I'm hoping my iPod sock will instantly make the phone look cooler. 😛 Or does it work in reverse… 😐 )