So I've been pricing up old crap (that I'm gonna sell at the flea market next week) most of the night. And organised stuff in the office. Then I read some and saw a friend's flat in an interior magazine. And when I was finished with that, I tidied up the office a bit more. Ohh the joy of lovely neat rows of folders and things. <3 And then I decided to try out my webcam as I moved it on the other side of the monitor (how exciting). So there I am, right now. Not that anyone's gonna read this right now but that's your loss. 😛 It's a plastic cover for a usb connector in my mouth by the way (jealous much S?). Anyways, the point of the matter is that… well that it's 3am and I don't feel like sleeping at all. I'm feeling strangely hyper and keep on contemplating about tidying up something else. Hmm.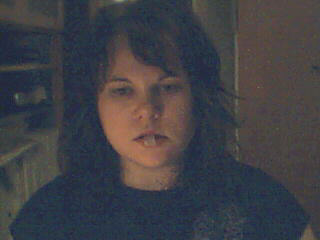 I think I mentioned it before (a couple of million times) but I'm getting truly fed up with winter now. Not that I go out that much, but it's depressing that I don't even want to. Bleugh.
Need a haircut quite badly.
Shit. I really thought I'd have something to write about. Never mind.