For those of you who've been biting your nails over what's been happening with our back door, some news at last. Not sure if they're what would be considered as 'good' news, but I suppose all progress is a case of one step forward two steps back, right? Let's see, the door was screwed shut on the 9th of June and we were told they'd be back to change the door in a 'couple of days'. It's nice that we finally learned the true meaning of the term a 'couple of days', it seems it's exactly 16 days. Live and learn eh! So on Wednesday, S was on overseeing-workmen-duty as I had a press day. When I got to work I got a phone call from the man who was (once again) lost outside somewhere in the vicinity of our flat. I phoned S to go outside and grab him. About an hour later I got a frantic call from S because he couldn't find a tape measure. 'Doesn't the workman have a tape measure?' I innocently asked, only to be told off for not being co-operative. Eventually the elusive tape measure was found and things could move forward. Next phone call from S: 'He took the door and the frame off and now he's done his back in and can't move'. I wasn't quite sure whether to laugh or cry at this point. A new man was then called in from Southampton (apparently very inconvenient for him indeed), who then took over from the injured one. All plain sailing from there on right? Well, not so much.
When I got home the state of the kitchen was something else. Mud and dirt everywhere, all plaster having been ripped off from the wall, with a lovely gaping hole at the bottom corner of the door to boot. The bloke was very pleased with himself though as, the way he put it himself: 'it looks like a door dunnit'. Well, yeah. Apart from the fact that we're not supposed to touch it because it's not tacked to the wall. However, our man was in a hurry to get somewhere else and said that he'd come to finish the job the next day. Or maybe the one after that. 'So that's secure now then?' I asked. 'Yeah yeah, just don't, like, use it'. Umm. I'm pretty sure anyone could just come and lift the door off, with the whole wall probably following. Needless to say no-one has yet been to 'finish the job'.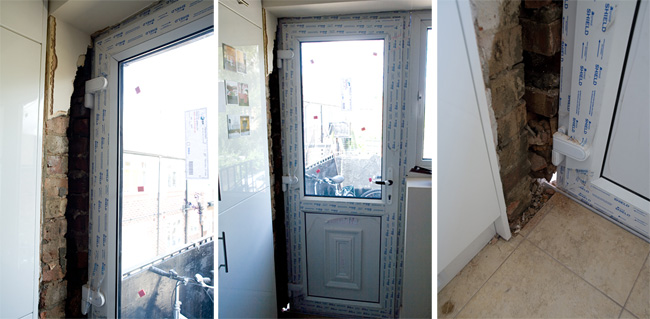 In other news, the nasty stomach cramps have turned out to be a tummy bug of some sort and I didn't make it to work today.