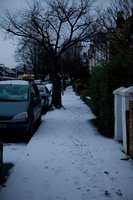 Phew. First workday – done. It was a bit of a shock to the system to first of all wake up to a snowy and freezing London, and then get out of bed when every fibre of my body was convinced it was still night time! It was also a bit difficult to get my 'work head' on at first, but by mid day it all started feeling like I'd never been away… Not sure if that's a good thing.
When we got home yesterday the flat was like a bloody igloo. We'd had the heating turned off (as it costs and arm and a leg) for the two days we were away, and of course those days were the start of the longest cold snap in London in however many decades. Today the inside conditions are starting to be a bit more humane, but last night was certainly no picnic! Oh how I miss Finnish central heating at times like these… Outside it's a different story, I'm quite liking the cold crisp weather. Although once the snow turned into sleet and icy wind in central London I wasn't enjoying it that much any more. 😛
I've decided to ignore my to-do-list for tonight. So there.