I could get some of the office Christmas party pics from earlier today off the camera but I'm on the sofa with my laptop, and watching Eddie Izzard, so can't really be arsed. Maybe tomorrow. 😛
I'm so tired that everything aches, not sure how long I'll manage to stay up for. Doesn't matter though. I'm treating today as the start of my Christmas holiday, even though I still have to go in on Monday. I'm thinking I will treat Monday as 'popping up to town to have lunch with Layla' sort of thing. Sounds much more inviting that 'going to work'.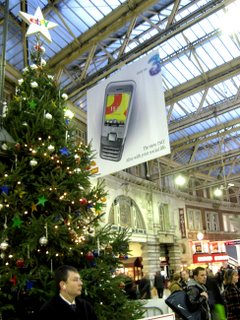 I've been playing with my INQ a lot yesterday and today, and am getting to like it more and more. Funnily, this being a mobile phone trial, I've actually used very few traditional phone functions, like making calls or even texting, in the past two days, since I can pretty much satisfy most of my communication needs via other methods. There are certainly a lot of things I like about the INQ, but also some niggles that could do with a bit more work in my opinion.
Last night after work I headed up to a very snazzy office in the West End (oh it was quite lovely to be back at my old stomping grounds!) to meet up with Matt from 3mobilebuzz and to find out a bit more about what's actually involved in the mobile trial. It also gave me a chance to share the biggest gripes I've had with the handset so far, which Matt then forwarded to INQ/3, which is kind of cool. Not sure if my user experience is going to make any actual difference when it comes to the future INQ models, but here's hoping.
But yeah, the things I really like about it so far:
It's really easy to switch between all the different networking clients, which means you can be writing on people's walls on Facebook, having a skype or live messenger chat and checking your mail, all practially at the same time.
The facebook client is really handy as you can write messages and update things even when outside of network coverage, it will then post everything once you are connected again.
Skype works like a charm. On my Nokia you have to keep on connecting to skype every time you need to use it, which makes it less than ideal, but on the INQ it is actually always on and connected (as long as you have network coverage). I've used the skype chat a lot instead of sending text messages and really like the ease of it.
It's cool to be able to merge all the instances of the same person from skype, msn, facebook etc. into one contact. That way you can always see if they are online with some client and thus use the most convenient way of communicating. Can't wait to see how easy (or difficult?) it'll be to really get all the contacts integrated when I get the phone synched with my Outlook.
I like the pared down simplicity of everything. It does the things you want it to do and there's no 'fluff' to confuse you.
Then the negatives:
The build of the phone feels a bit cheap and flimsy.
There's very little control over sounds in different clients, for example the skype incoming chat message is driving me nuts, and there doesn't seem to be any way of turning this off.
The facebook client is missing one crucial navigational aid from the top menu – 'home'. At least for me this is the page I want to generally start from, but to get there you'll have to go to a submenu menu and 'jump to' the homepage.
The phone keeps buzzing (especially in the middle of the night) to inform me of some sort of event or message, but when you have a look there's no actual way of knowing what the hell the buzz was for. Quite annoying.
The window turns horizontal in a very random manner. Browsing some websites it'll suddenly turn sideways at a slight flick of your wrist, but it's impossible to actually make it do this on command. I have no idea why and when it happens, and whether it's supposed to do it every time you turn the phone sideways.
Why no blogger or generic blogging client?
Hmm. I guess that's it for now. I'm still waiting for the software that will enable me to synch the phone with my calendar and address book. I also haven't put any music on it yet so can't comment on sound quality etc. yet.
Sometime next week there's something a bit exciting happening regarding the trial. Will tell you more about it when it's live.
Uhh I think I'll have to give up now and go to bed. Hopefully will have a lot more energy tomorrow, have shedloads to do. And also, we're having a little xmas do with Sooz before she's off to Finland (sniff) for Christmas.