Today didn't start very well. Waterloo was in chaos and getting on the tube was a right palaver. And not just in the usual way. While waiting on the platform for the (5th) tube that I might fit in, I got a bit annoyed by the person behind me getting a bit too close (and that's saying something with the way people were packed there). He was very short though so I assumed it was a kid, they don't generally have a similar sense of personal space as adults tend to. Finally there was a train I could squeeze into and the person behind me pushed me in with such force that I had to swear out loud. Once we were all squeezed in I realised the someone had their arm practically around me. Trying to turn my head wasn't very easy as the car was so crammed with people, but I did realise that it was the same shortarse from the platform, who had now squeezed himself behind me. I then realised that he wasn't a 'kid' at all, but indeed some mutherf*****g pervert trying to get off by humping my leg! Eugh! All I could do in the tight space was to elbow him in the chest really hard. I later hoped I'd said something to embarrass him for good, but I was too shocked to speak at the time, besides, he was behind me so it was a bit difficult. After I elbowed him he got off the train at the next stop… only to move on to the next carriage. Uhh. I still feel violated!
The day didn't get much better once I got in the office. We still have no internet/server access due to problems that have now been going on for a month. The atmosphere at work is very tense as people as just so over not being able to do their work and just having to sit there and wait… it's soul destroying. And to add insult to injury, we're supposed to get the issue to press tomorrow. Hey ho.
There were some positive points to the day though. Since going to the INQ launch party, I was chosen to test out the new handset for a month, and I received my review copy today. It was good timing as I really could use some distraction at work, which playing with the phone provided. In this short space of time I have already grown to like it quite a lot. All the social networking tools are easy to use, and dad already managed to phone me on skype while I was on the train. 😀
I think I mentioned after the launch the original artwork created for the cards that work as a manual. They're super cute.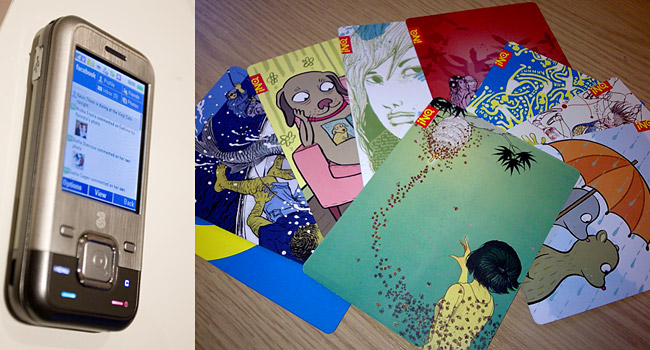 I'm not quite sure how I can synch the phone with my address book and calendar, something that would be vital for me if I was using the phone for real. For now it grabbed all my facebook contacts and added them into my phone book. Note sure if that was the way I wanted to go about things. 😀 I think I'll have to have further play with it to figure out what's the best way to do things. I will let you know my thoughts over the month.