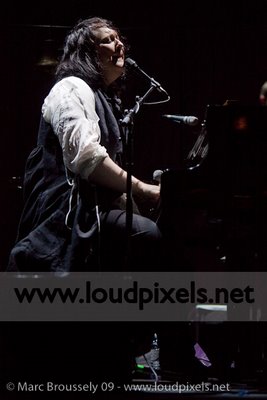 This week… let's not even go there. It's like everything that could go wrong in your worst nightmares has gone wrong, and then some.
I'd rather talk about seeing Antony & the Johnsons at Hammersmith Apollo last night. I went with Sooz (the ticket was her birthday present as she missed seeing Antony at the Barbican last October), but we had to leave Stu at home to try to sort out a serious computer crisis, which sucked a bit. After seeing Antony at Kulttuuritalo in Helsinki in 2007, and then at the Barbican last year, I was a bit worried about how a venue like the Apollo would work. And, as it turned out, I had a reason to be worried.
I have waxed lyrical about the out-of-this-world quality of Antony Hegarty's voice, and the life-altering effect of experiencing his live performance, plenty of times before. And yes, those things were present yesterday. There's no other voice I have ever heard that can instantly move me to tears when it flows through me, and in that respect, I wasn't disappointed.
What I was disappointed, no, disgusted with, was the audience. Well, not everyone obviously. I'd say about 80 per cent of the people were there to actually listen, but the other 20 per cent did do their darnest to try to ruin the whole experience for everyone else. Seriously, if all you care about is running back and forth getting more beer, not giving a shit how much noise you are making or how it might be affecting the artist on stage, why not just go to a pub? Surely that would be a lot cheaper night out as well. I just cannot comprehend it. When something larger than life is happening right before your eyes and ears, and when the artist is clearly dragging out the start of the song waiting for people to quiet down, how can anyone in the same space not notice this and stop breathing, instead of carrying on with banging and running around? It's such an insult to the artist, and in this case, to everything that is good about the whole friggin humanity. At some point Antony clearly got annoyed and pulled back emotionally. The voice was still there, but it was clear he didn't want to give anything more to the audience. He did come back for two encores, one of which was the always amazing Cripple and the Starfish. To be honest, if it was me, I wouldn't have come back. But it was lovely that he did want to do that for the people that were there for him. I think everyone did try to make up for it by the huge standing ovation.
I am glad I went, even if it was a mix of elation and pure anger, and I'm sure I will in the future try to see him live when ever I get the chance. My overwhelming feeling throughout last night was put into words by someone commenting on a youtube video with 'The world doesn't deserve him'.
Oh and the picture from the concert is by Marc Broussely, who funnily enough is one of my clients (whom I've yet to meet), who's wedding I'm photographing in August. I had no idea he'd worked the gig until I saw his blog today! Funny coincidence. 😀
Here's a clip of River of Sorrow from the Barbican in October 08.